Our Natural Weighted Blankets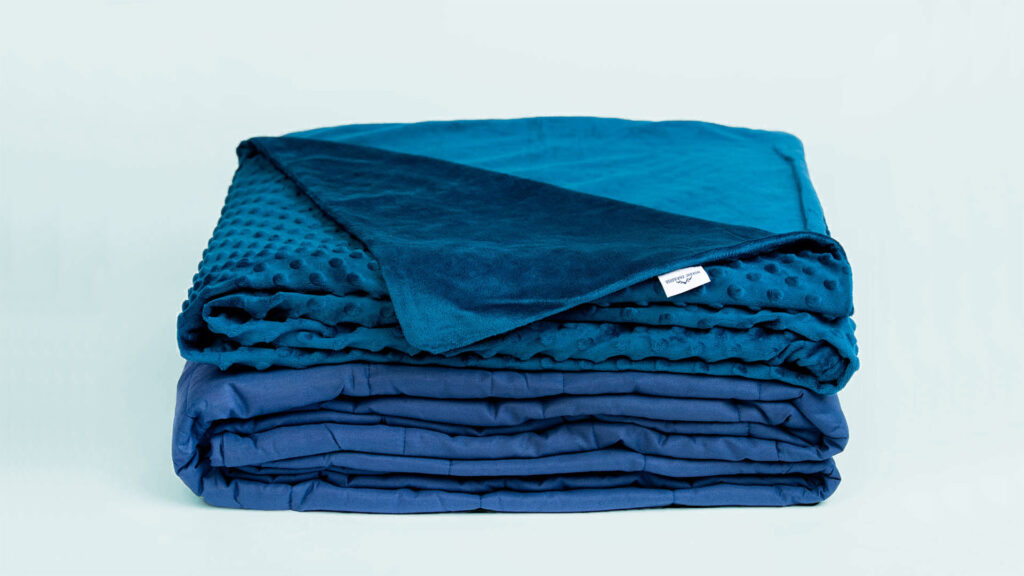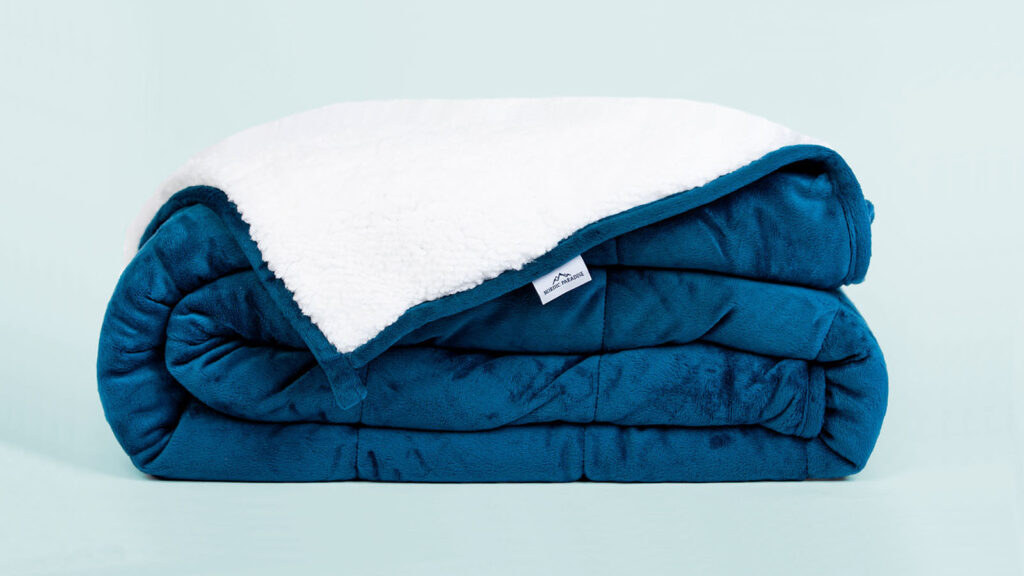 Cozy Weighted Blanket
6-Layers Structure
Reduce stress and anxiety
Warm and cozy double sided cover
€

179,50
(up to 17% discount)
VAT inc.
Buy Now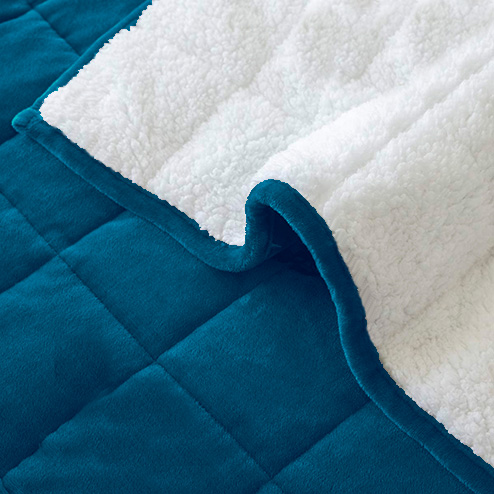 The advantages of weighted blankets
Improves quality of sleep
Helps with insomnia
Reduces anxiety and stress
Raises overall mood
Treats a number of medical conditions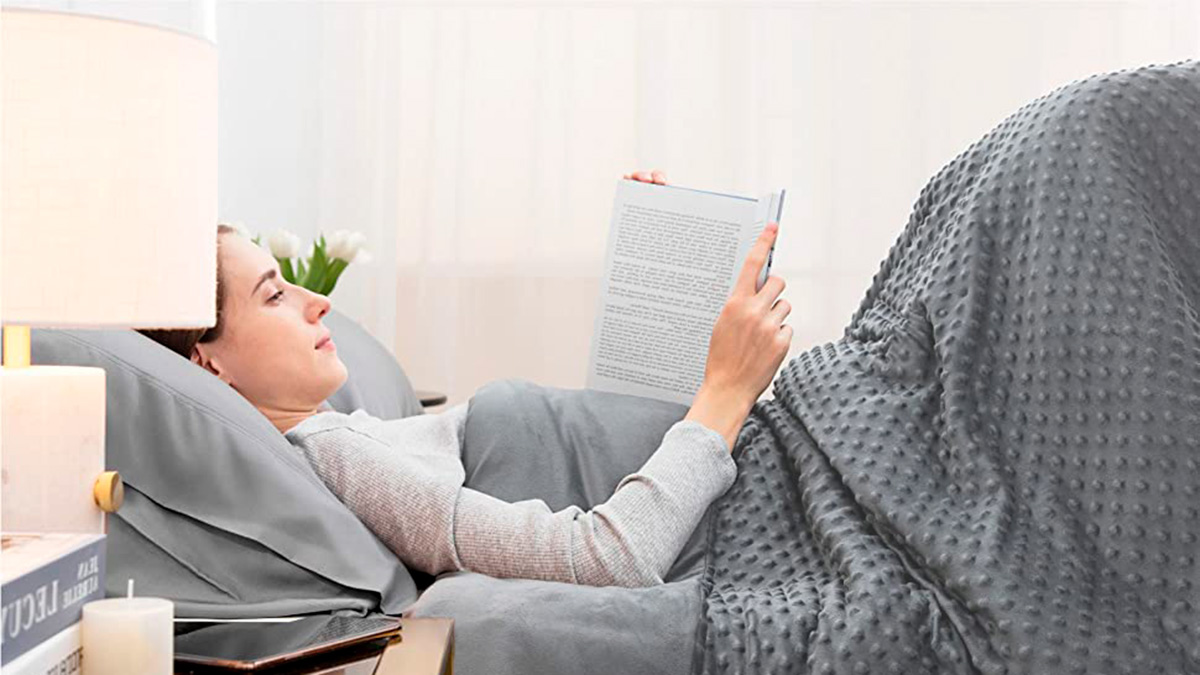 The calming effect of a weighted blanket
The Nordic Paradise weighted blankets use the therapeutic technique called deep pressure stimulation to create a natural calming effect, reducing stress and anxiety. The glass beads inside increase the blankets weight so that it better fits your body curvatures and creates the sensation of a gentle hug.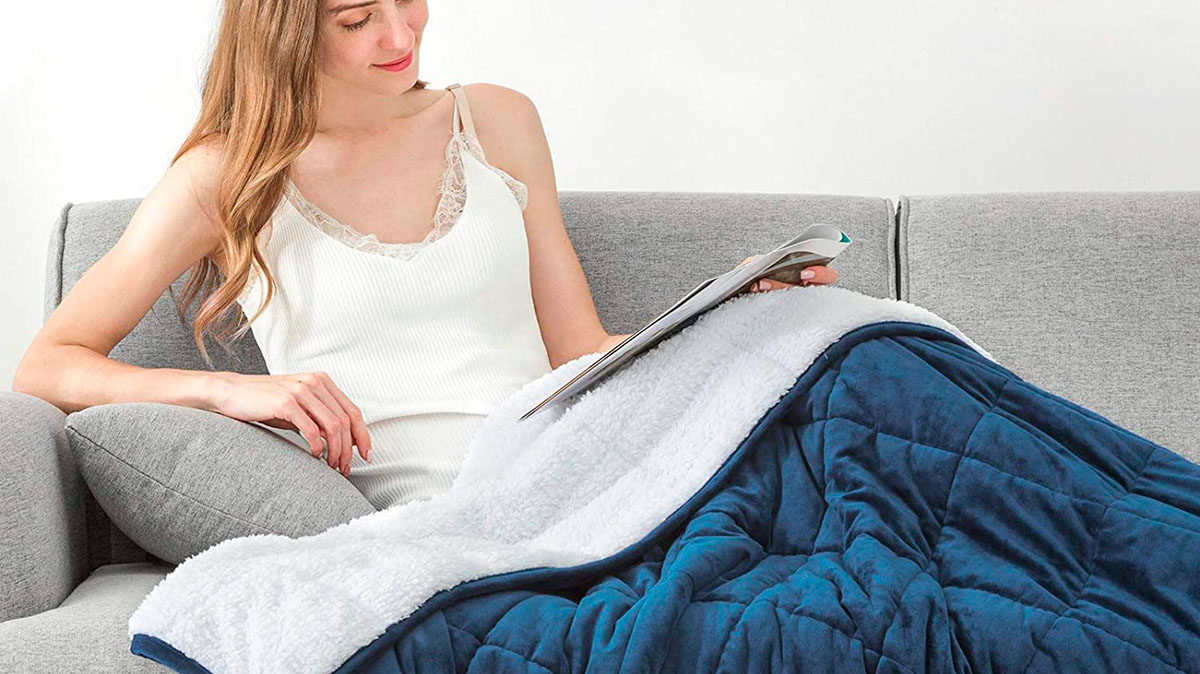 Fine glass beads filling
Every Nordic Paradise  weighted blanket is carefully filled with fine glass beads to obtain their weight. These glass beads do not contain any chemicals and are hypoallergenic and noiseless so that you can snuggle all day and night.
Shop Your Blanket Relieve your stress while sleeping with the Nordic Paradise weighted blanket

Two weight options
Our weighted blankets are designed in two weight options - 6.8kg and 9kg. For best results, it is advised to choose the blanket closest to 10% of your body weight.

Tie loops for maximum stability
6 strong ties allow you to attach a cover to your weighted blanket, ensuring it will stay in place all night.

Equal weight distribution
The weighted blankets are quilted in small pockets with glass beads, allowing even weight distribution. This ensures that the blanket wraps tightly around your body, providing the desired deep pressure stimulation.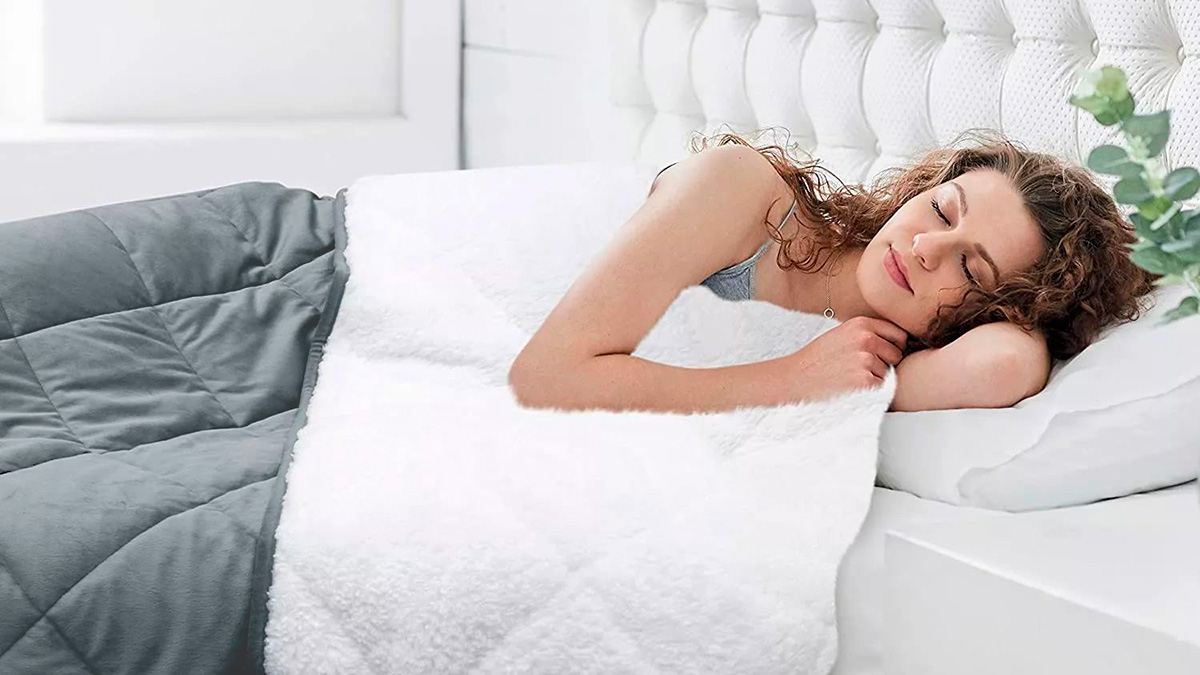 The science behind our weighted blanket
The Nordic Paradise weighted blankets work using a method called "Deep Pressure Touch" (DPT). DPT is a therapy that increases serotonin and melatonin levels and decreases cortisol levels (the stress hormone). The weighted blanket helps to improve your mood and allows you to fall asleep faster.
Shop Your Blanket
What do our customers thing about their Nordic Paradise weighted blankets?
Exactly what I needed!
Perfect blanket to rest on the sofa with a book on Sunday afternoons. I ordered the 6.8kg version and it nicely wraps around me and feels very cozy. The textile feels also very soft.

See all reviews

See all reviews
The most-calming blanket for the cold winter months
A must-have for extra coziness and relaxation.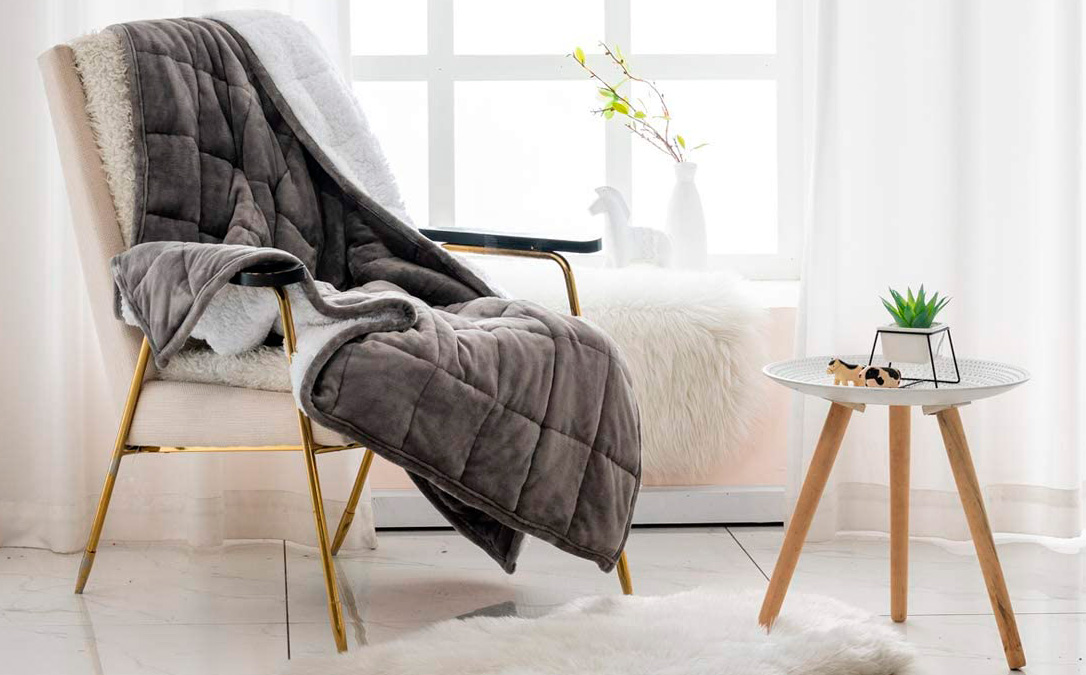 Frequently asked questions
How heavy should my weighted blanket be?

For best results we recommend the weighted blanket to be about 10% to 15% of your body weight.
Are weighted blankets suitable for everyone?

In general, weighted blankets are safe for everyone. Nevertheless, there are some factors to consider.

Due to their weight, weighted blankets can pose a safety hazard for small children under the age of three or those  that weigh less than 22kg. 

Pregnant women should consult with their doctor about any risk factors specific to their pregnancy beforehand.

People who have claustrophobia, sleep apnea, respiratory issues, or other concerns, should be precautious and confirm with their doctor that it's safe to sleep with a weighted blanket. 
How long should a weighted blanket be used?

To get the full benefit of your Nordic Paradise weighted blanket, you should be consistent and use it every night.
What are the benefits of the Nordic Paradise weighted blanket and for what conditions are they good for?

Weighted blankets use "Deep Pressure Therapy" or deep pressure stimulation to relax the nervous system.

This technique uses gentle pressure to mimics the experience of being held or hugged and is helpful for:

Relieving the perception of pain

Reducing symptoms of anxiety

Improving sleep quality

Relieving symptoms of depression

Researches also show that weighted blankets may be beneficial to a number of medical conditions such as: 

Anxiety

Autism
Attention deficit hyperactivity disorder (ADHD)
Post-traumatic stress disorder (PTSD)
Insomnia and sleep disorders
Osteoarthritis
Chronic pain
Restless leg syndrome
Can I return my weighted blanket after purchase?

All products purchased from the Nordic Paradise website can be returned up to 30 days after placing your purchase. Due to the nature of the products, once used it cannot be put for sale again due to hygienic reasons. To reduce waste all returns should be in a good condition and in the original packaging.
Do I have a warranty on my Nordic Paradise weighted blanket?

Yes, all Nordic Paradise weighted blankets come with a 2-year warranty against manufacturing defects or damage due to normal use. All the more reason for us to pay the greatest attention to every detail in the production of our products!
How long will it take to receive my weighted blanket?

The delivery time of your order is on average between 1 – 3 working days. To be sure about the specific delivery time for your country or region consult the list below: 

Country
Delivery Time
Belgium
1 – 3 working days
(Counting from the day of the order if the order is placed before 21:00)
The Netherlands
1 – 3 working days
(Counting from the day of the order if the order is placed before 21:00)
Luxembourg
1 – 3 working days
(Counting from the day of the order if the order is placed before 16:00)
France
2 – 4 working days
Germany
2 – 4 working days
Denmark
2 – 4 working days
Other EU countries
3 – 10 working days
How do I wash and dry my Nordic Paradise weighted blanket?

Due to the weight of the product, a weighted blanket should be laundered in a commercial washer in gentle mode.

For best care and to preserve the life of the blanket, it is advised to wash in cold water and air dry when possible. Dry on low heat for a short time. If you need it to fluff it, you can dry the weighted blanket with a towel. If dirty, you can also spot clean the product. Do not dry clean. Do not iron.