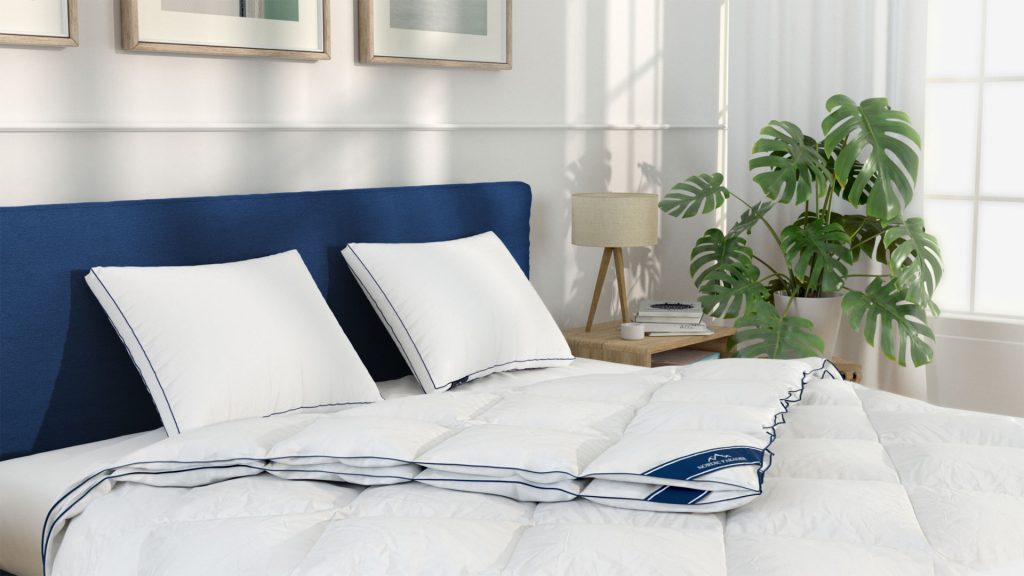 4-Season Down Duvet
Two combinable duvets with snap buttons, suitable for all seasons
90% white French duck down
Starting at
€

219,95
VAT inc.
Buy Now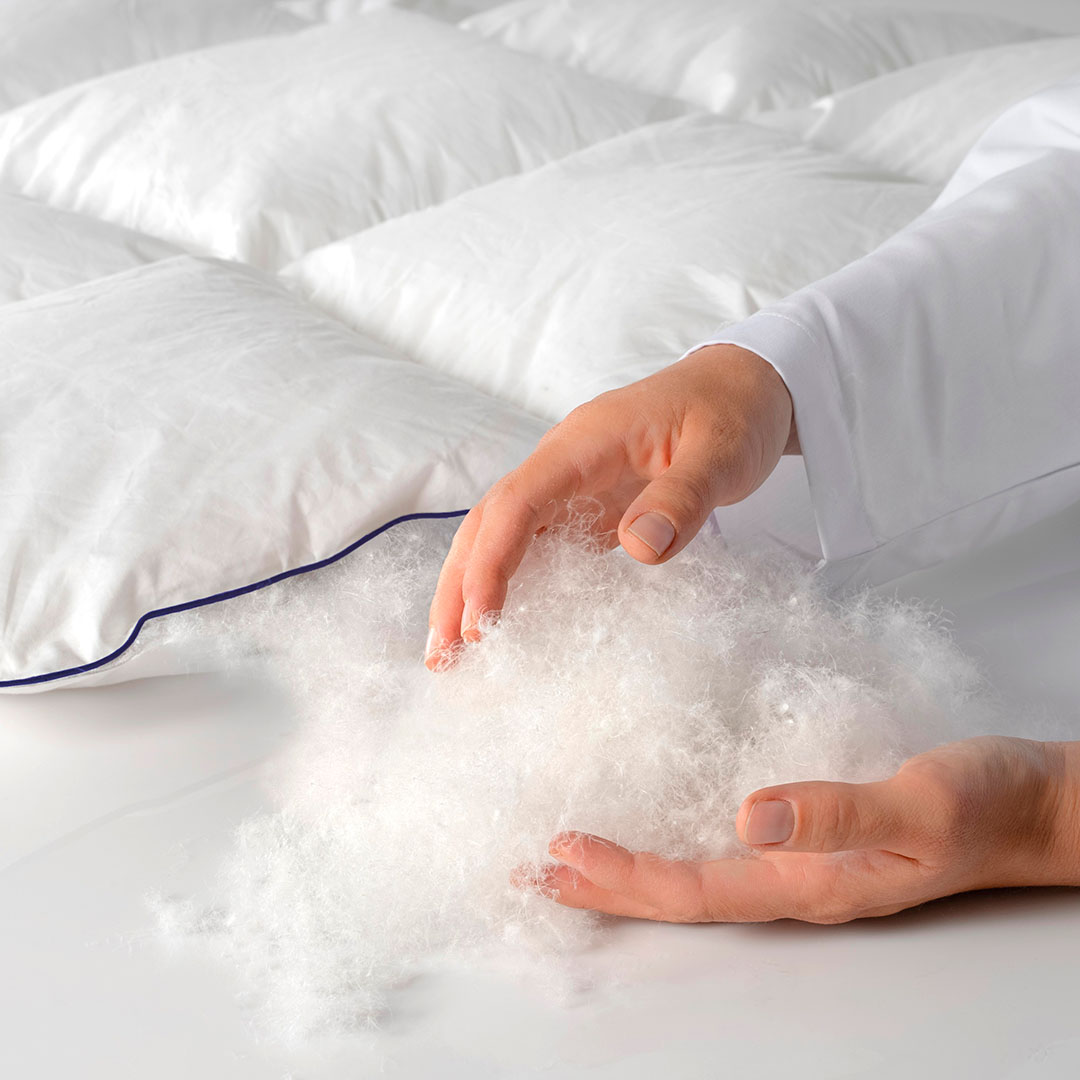 The advantages of a natural down duvet
Ultra soft, light and comfortable
Dust mite blocking cotton textile
Thermoregulating breathable filling
100% recyclable & biodegradable
Very long lifetime (10-15 years) What makes our down duvets so special?

High quality down filling
All our down fillings are controlled in our laboratory for their cleanliness and quality. We do this to ensure our down is hypo-allergenic.
Thermoregulating & breathable
The down inside our duvets regulates your body temperature and humidity levels in a natural way. This makes it perfect for every season!

Sustainable European down guarantee
We only use responsible European sourced down from controlled farms and process it in our own factory using less water and electricity.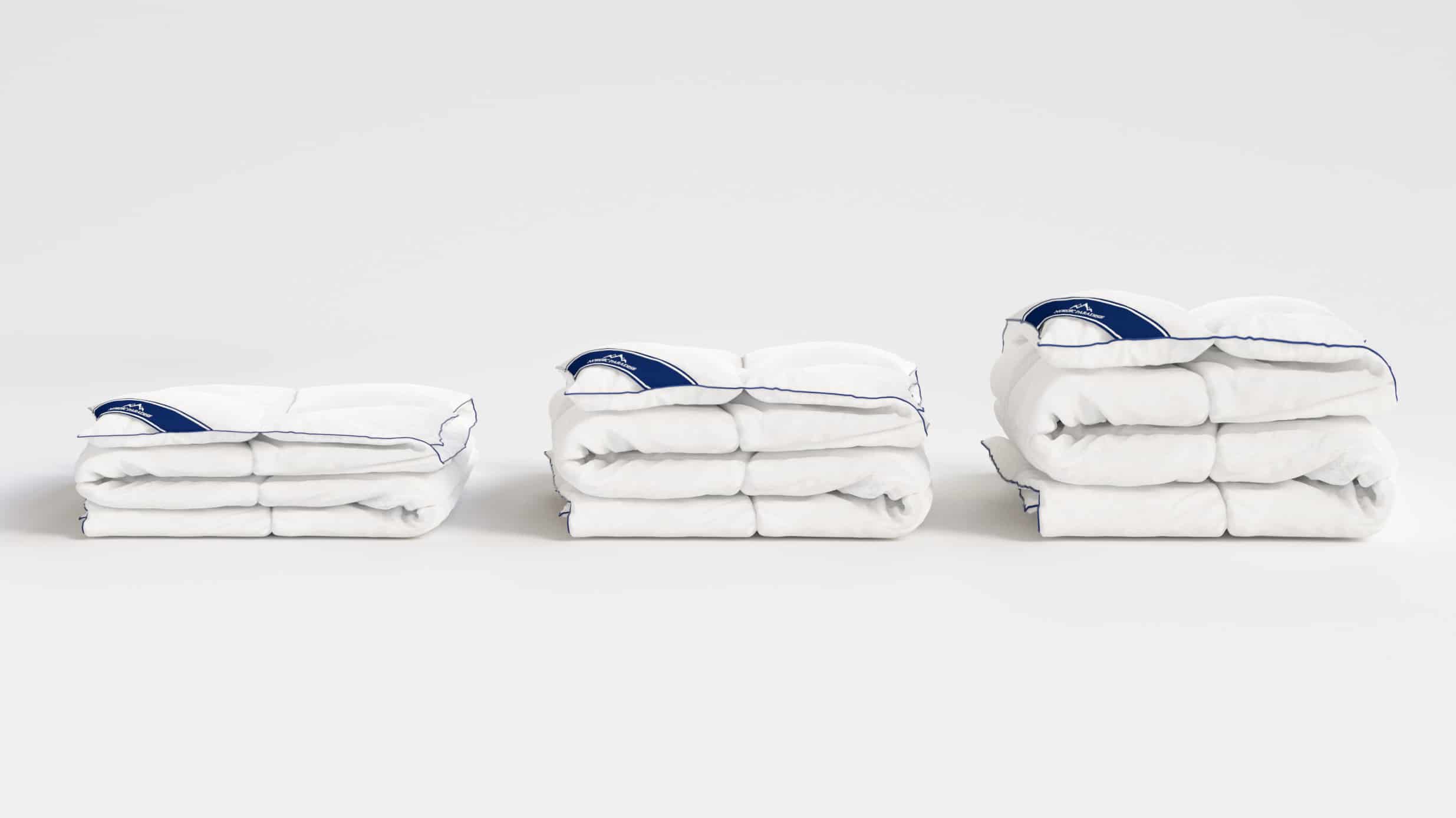 A down duvet for every temperature
Many believe that down is only suitable for warm winter duvets because of its special characteristics to insulate. This is a misconception. Down is thermoregulating and breathable, which means that it keeps you warm in winter but also comfortable in summer by using a lower filling weight. It's a perfect option for every season!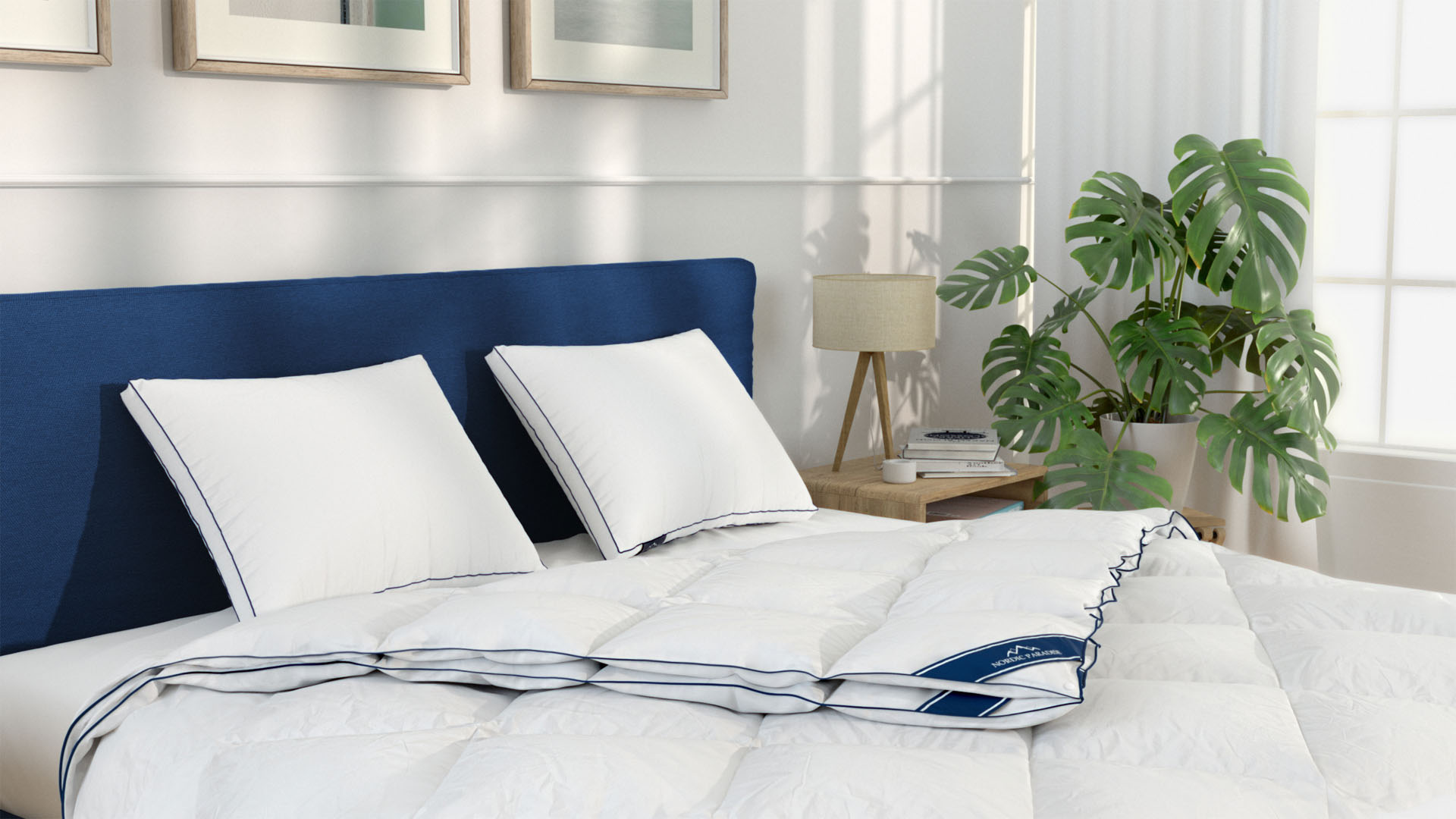 Introducing our brand new 4-Season Down Duvet
Our 4-season down duvet consists of two separate parts, a summer duvet and a mid-season duvet. The summer duvet is extra light and breathable, making it good for warmer periods. The mid-season duvet is filled with more down to keep you warm in the mid-season.
Starting at
€

219,95
VAT inc.
Shop Your Duvet
Improve your nights for better days.
A third of your life is spent in bed. We are here to help you improve your sleep experience.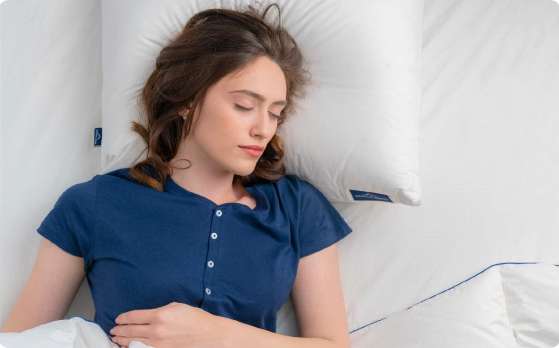 See why our customers love their Nordic Paradise Duvet
Super warm and so fluffy!
I was more than pleasantly surprised from the amazing quality on such a low cost! It's so soft, so fluffy and so super extra warm! No need of heating even in an old house during the coldest winter days with this duvet! And it's a bliss sleeping with it!
Good sleep involves opening the surprising Nordic Paradise box...
Great comforter, quick customer service as I had ordered the wrong size. Comforter is very light but warm enough, really worth the money.

See all reviews

See all reviews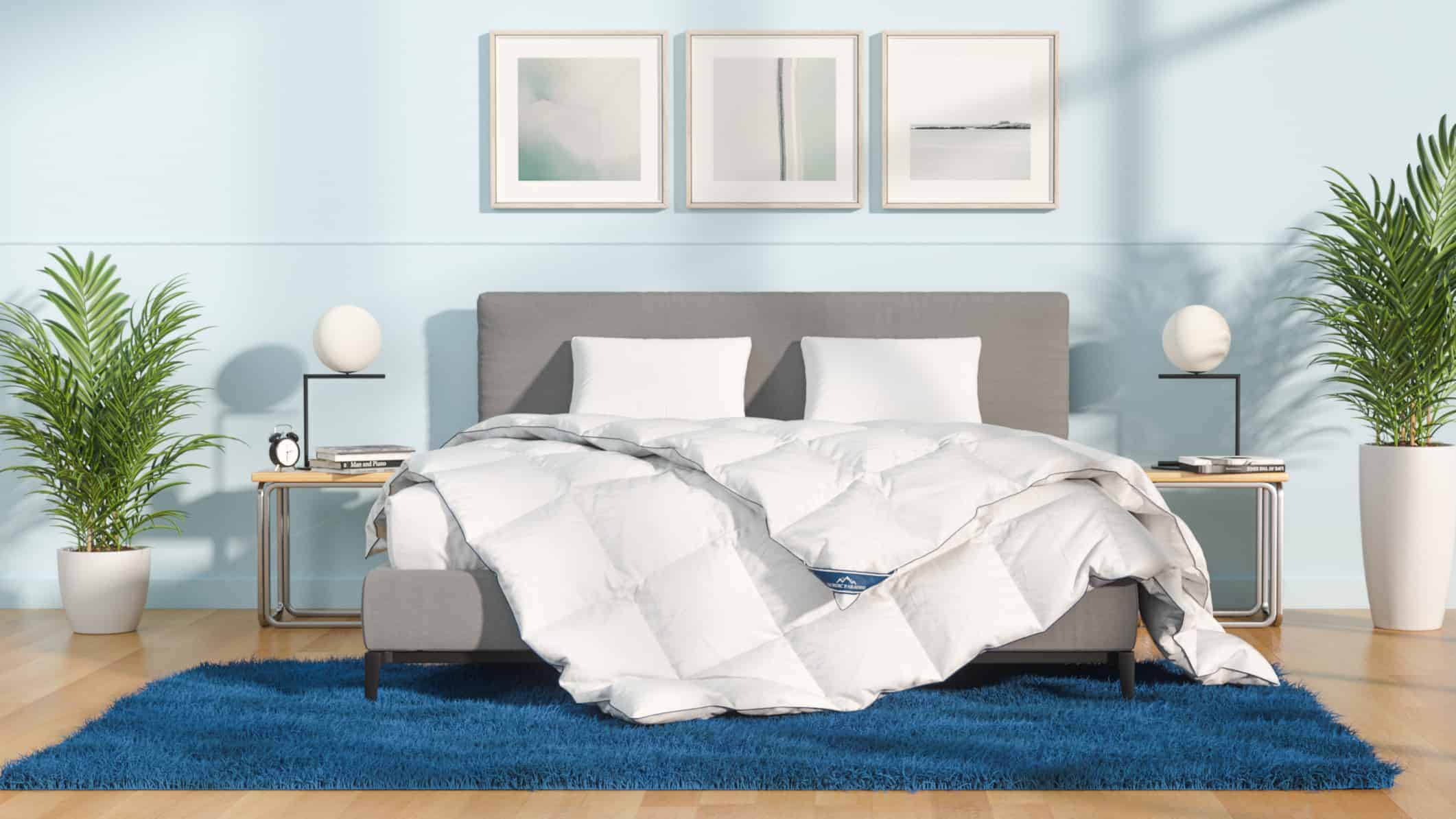 Why should you buy your down duvet from Nordic Paradise?
When it comes to our down comforters, what makes them special is our complete in-house production. We process the down fillings in our own factory and then make the down comforters ourselves. The experience we have in the down and feather industry guarantees the quality of what we offer. Because we are convinced that you will love our down duvets, we offer a 30-night trial period and a 2-year warranty. You have the choice between different fillings and warmth options, allowing you to find the comforter that suits you best.
If you have any questions, our team of sleep experts is here to help.
Shop your duvet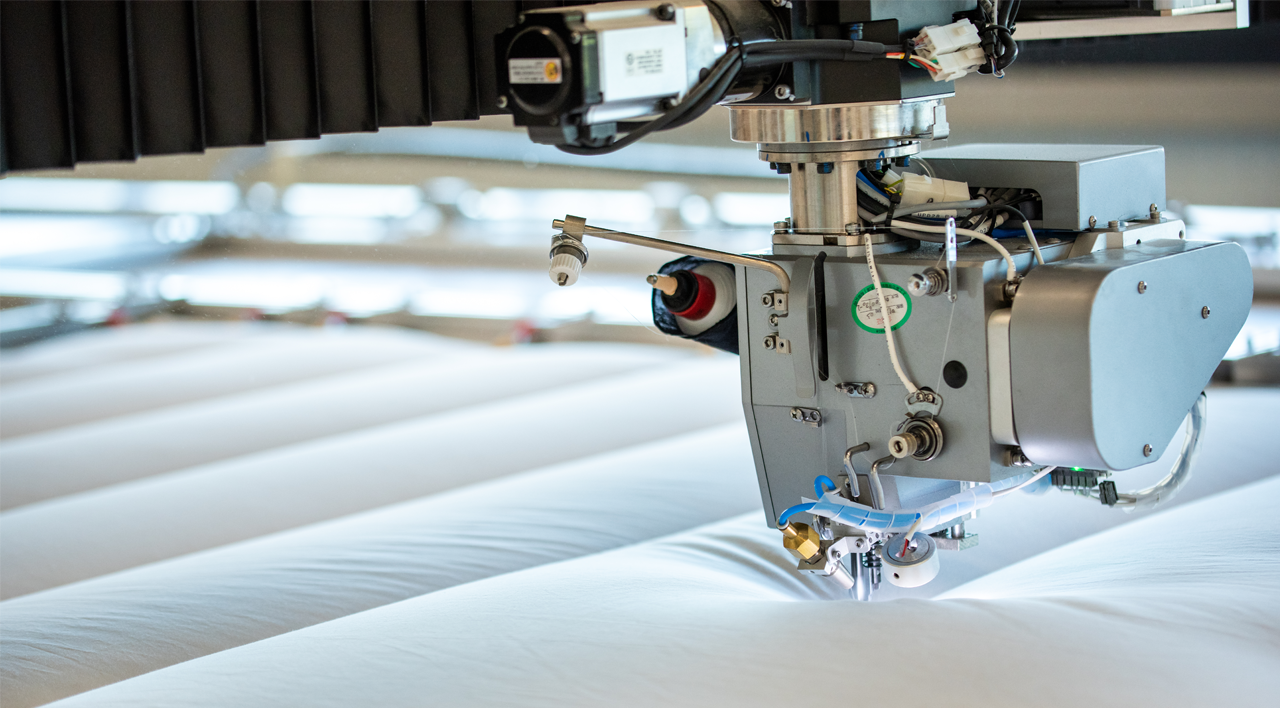 See all reviews
How's your sleep? Mine is great!


Frequently asked questions
What is the difference between down and feathers?

Many people think of down as a small feather, but this is not exactly true. Down is a cluster of fibers found under the feathers of ducks and geese. It is this material that protects them from both extreme cold and extreme heat. Down is the lightest and most efficient insulator that exists in nature. On top of that, it has special characteristics that regulate your body temperature and humidity levels. This makes our Nordic Paradise duvets perfect for staying comfortable at night.

Feathers can take many shapes and sizes. They range from very large pointy feathers to very small ones with fluffy down fibers on the bottom and a soft tip. It are these small soft feathers that are specially selected to be used in some of our Nordic Paradise duvets and pillows. Feathers have a lower insulation level and higher relative weight compared to down. For this reason, our Comfort Feather duvet has a higher filling weight.
Are Nordic Paradise duvets all natural?

All our Nordic Paradise duvets are filled with 100% natural down and feather fillings. The textile used for the covers is made from 100% natural cotton percale. Furthermore, our down and feather filling inside carries the Sustainable European Down guarantee. This gives you the assurance that all the down and feathers fillings in our Nordic Paradise duvets are sourced according to strict animal welfare rules and are processed with a lower environmental footprint.
Do down duvets cause allergic reactions?

No, all our down and feather fillings are extensively washed and sterilized at 120°C. The cotton cover used for our duvets is down proof, which means that it is very tightly woven. This effectively blocks all dust mite from entering your duvet or pillow, making it allergy proof!
Can I return my duvet after purchase?

All products purchased from the Nordic Paradise website can be returned up to 14 days after placing your purchase. Due to the nature of the products, once used it cannot be put for sale again due to hygienic reasons. To reduce waste and maintain our prices a shipment fee can be applied to return items.
Do I have a warranty on my Nordic Paradise duvet?

Yes, all Nordic Paradise comforters come with a 2-year warranty against manufacturing defects or damage due to normal use. All the more reason for us to pay the greatest attention to every detail in the production of our comforters and pillows!
How long will it take to receive my duvet?

The delivery time of your order is on average between 1 – 3 working days. To be sure about the specific delivery time for your country or region consult the list below:

Country
Delivery Time
Belgium
1 – 3 working days
(Counting from the day of the order if the order is placed before 21:00)
The Netherlands
1 – 3 working days
(Counting from the day of the order if the order is placed before 21:00)
Luxembourg
1 – 3 working days
(Counting from the day of the order if the order is placed before 16:00)
France
2 – 4 working days
Germany
2 – 4 working days
Denmark
2 – 4 working days
Other EU countries
3 – 10 working days
How do I wash my Nordic Paradise duvet?

You can machine wash and dry your duvet and pillow. However, it is recommended to do this not more than every 2 to 3 years. Down has the special characteristic to keep itself clean and doesn't need to be washed as often as a synthetic comforter. Washing too often can also damage the structure of the down clusters and reduce the volume and insulation power of your duvet.

Drying your duvet or pillow is the most important part of making sure you have a clean and fresh product at the end. After washing a pillow or comforter the filling will be more compact and wet. In order to be able to use it again it must be properly dried, preferably in a tumble-dryer.

Put your comforter in the tumble-dryer with two or three tennis balls wrapped in a white pocket or sock. Set the dryer to "Tumble" or "Air dry" at a moderate temperature. To completely dry multiple cycles will be required. Between every cycle, get the comforter out of the tumble-dryer and shake your comforter to open up any pockets of wet down so it can dry better. After multiple cycles in the tumble-dryer, put the comforter open to rest in the air so the remaining humidity can get out. Make sure your comforter or pillow is completely dry before you use it again. The complete drying process of natural down and feather comforter can take up to 6 or 8 hours.