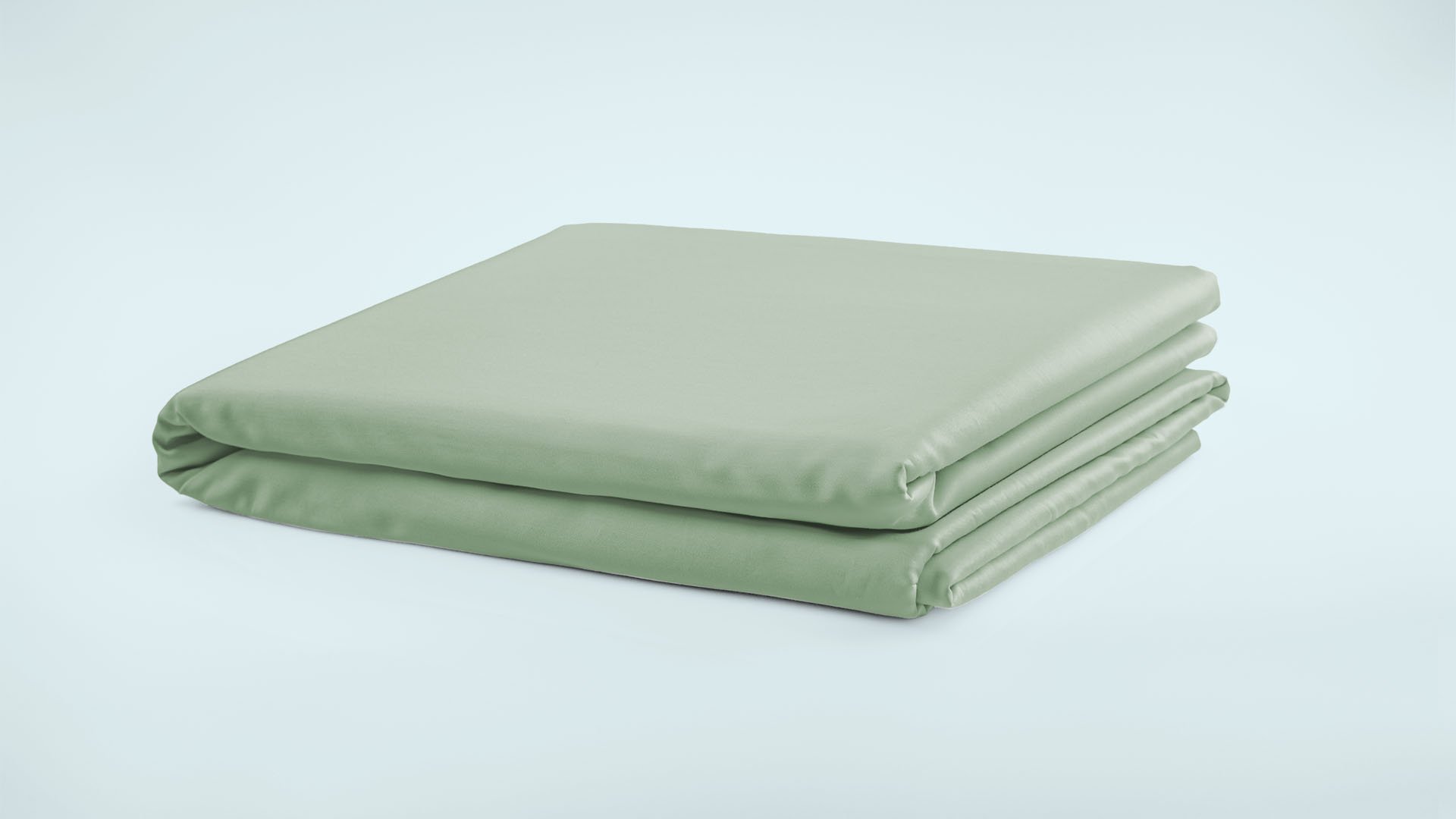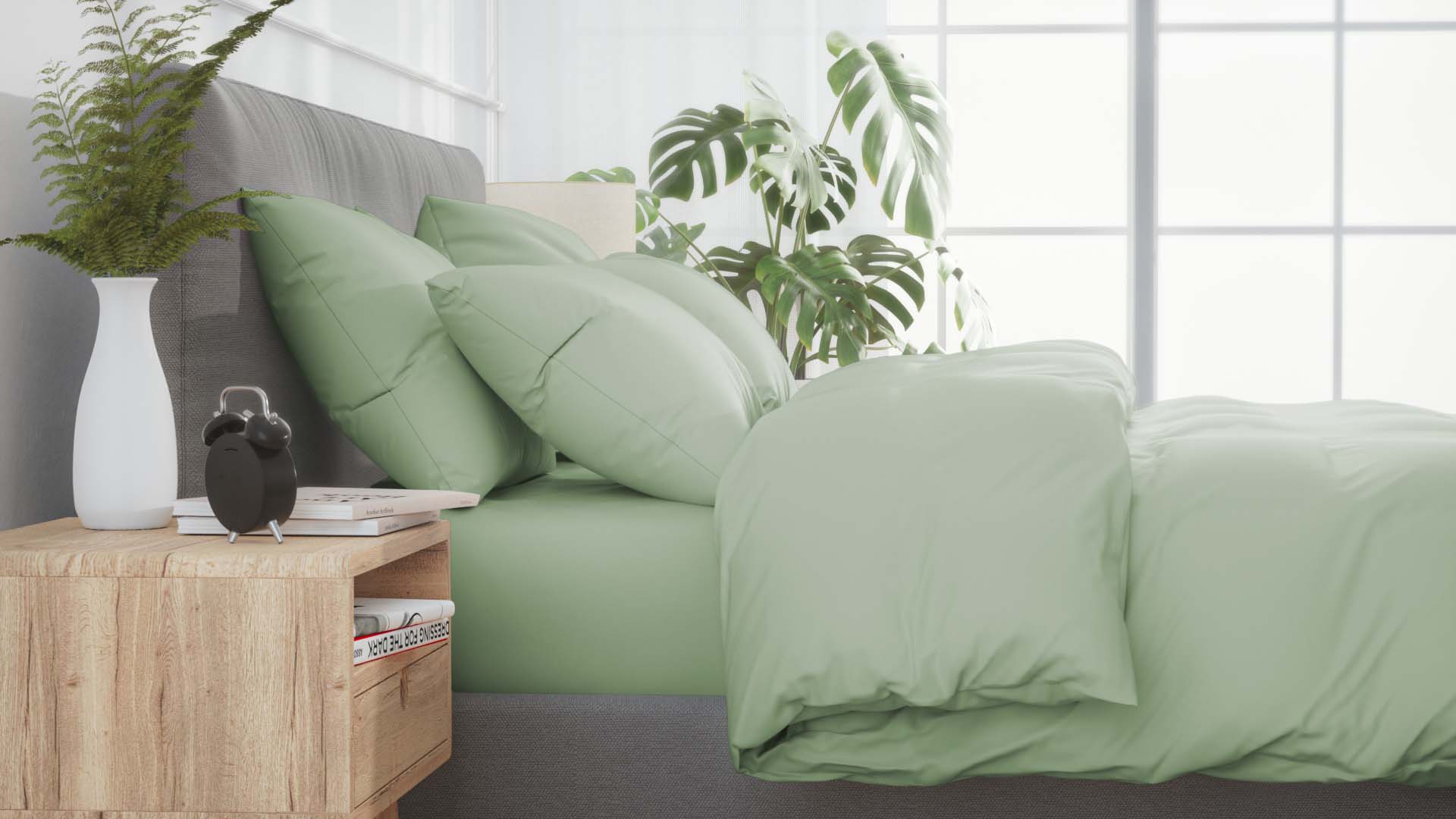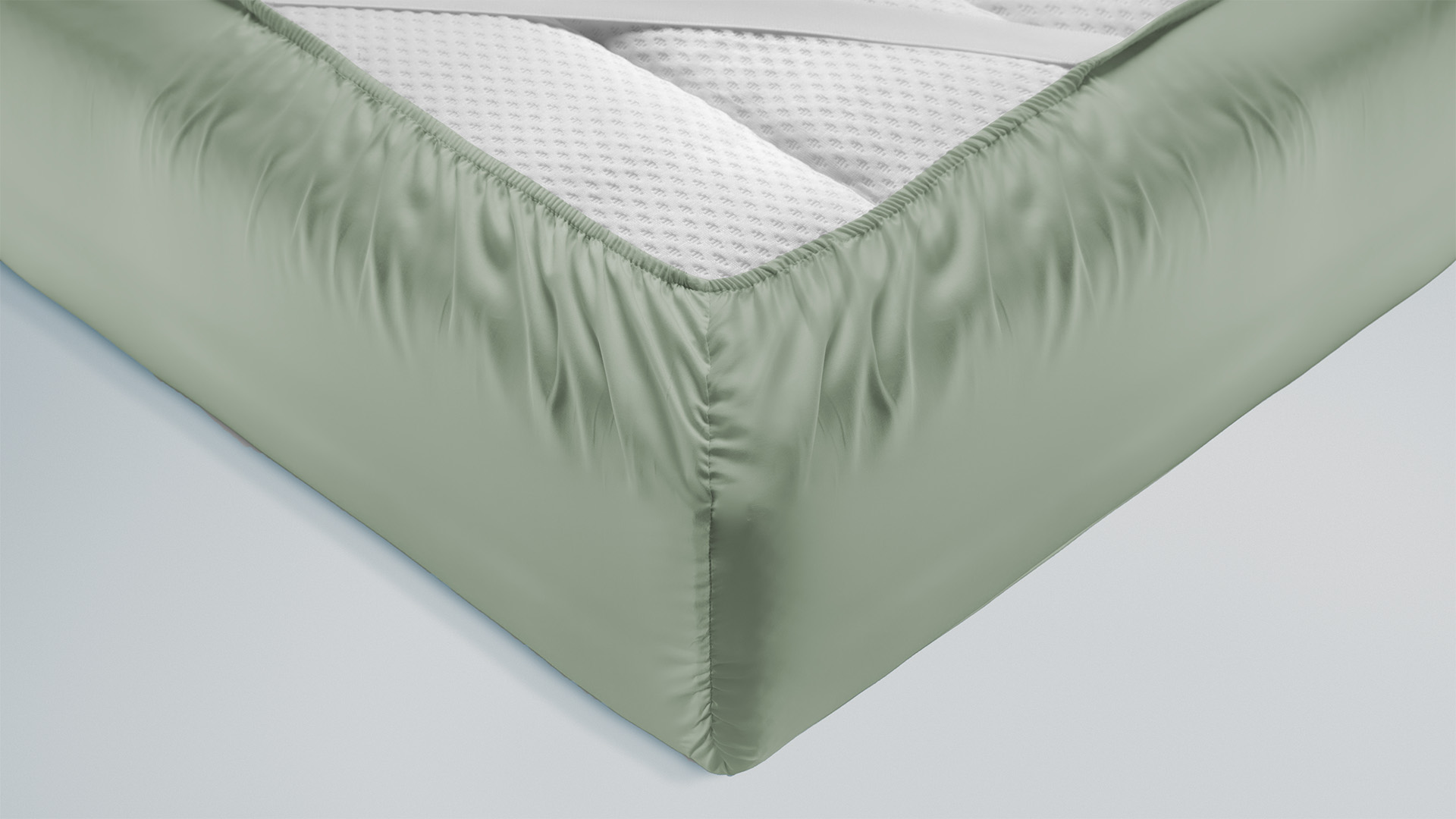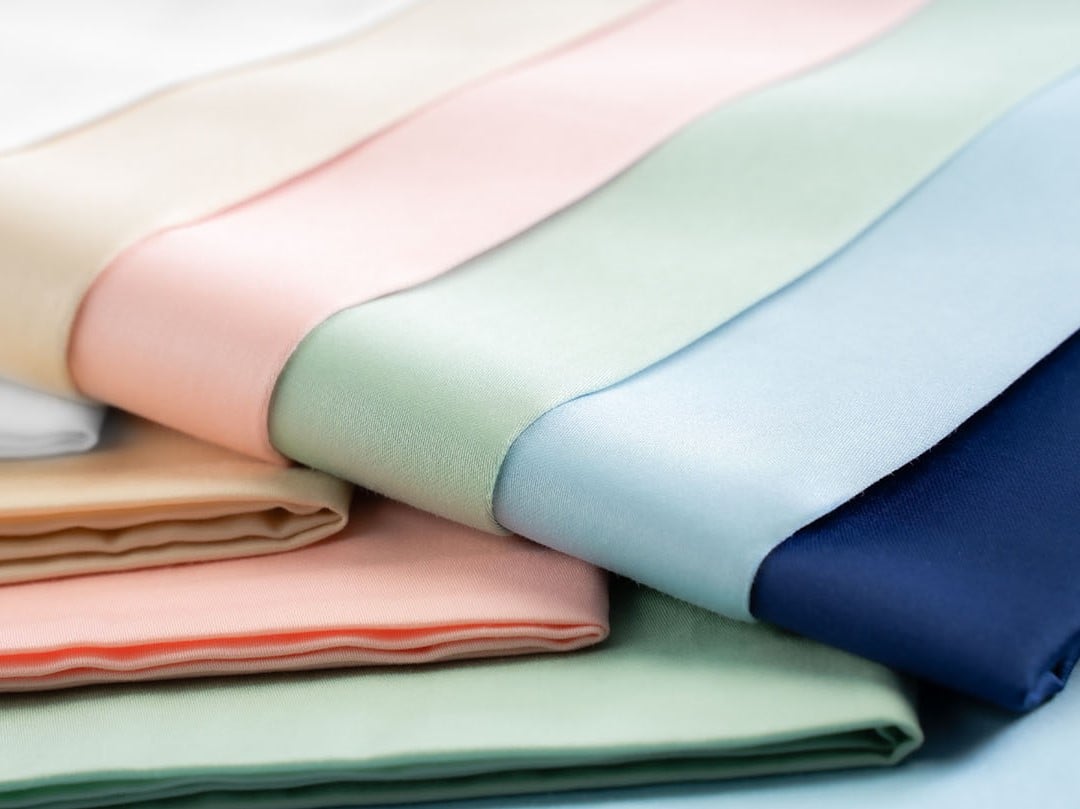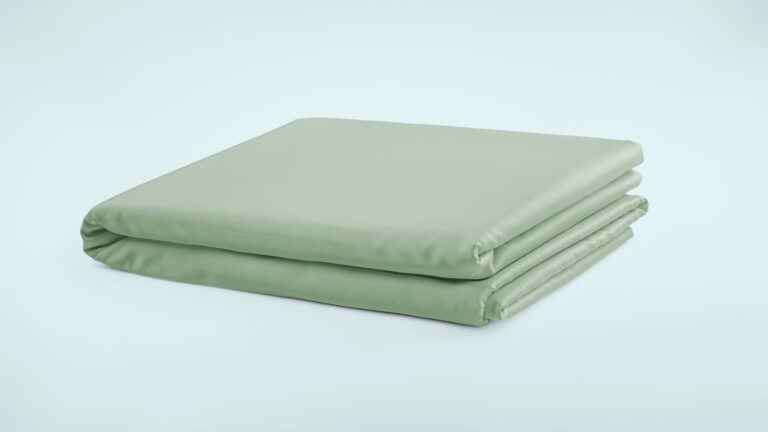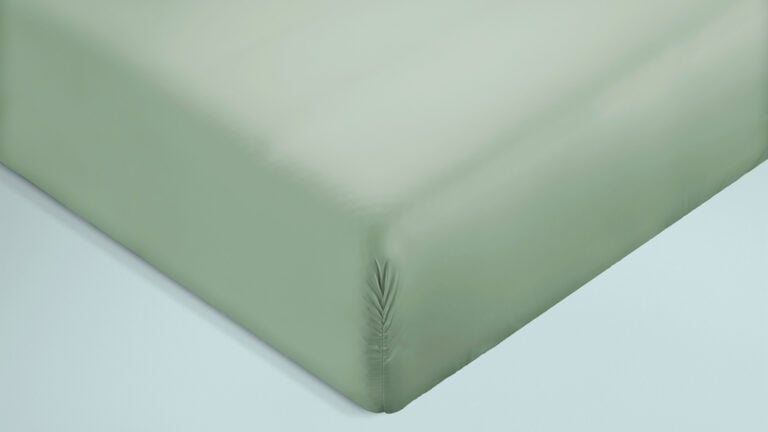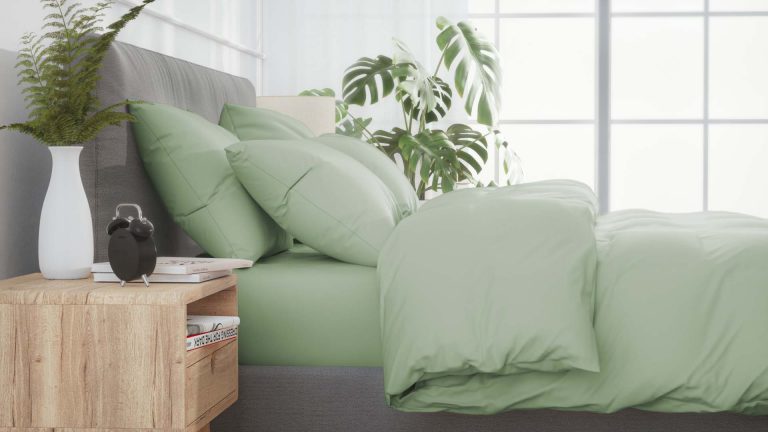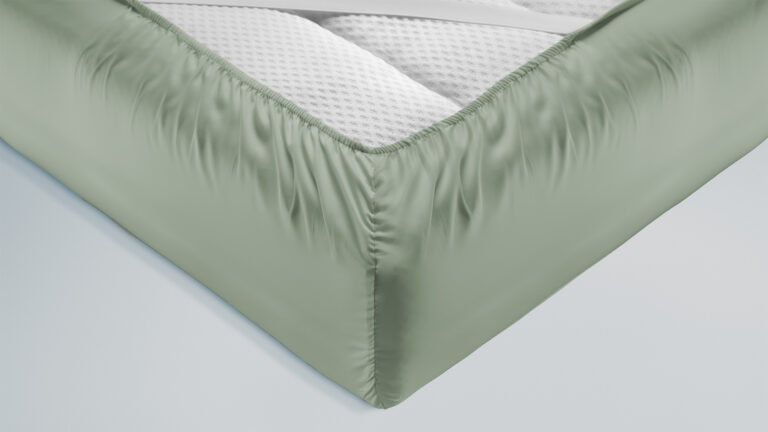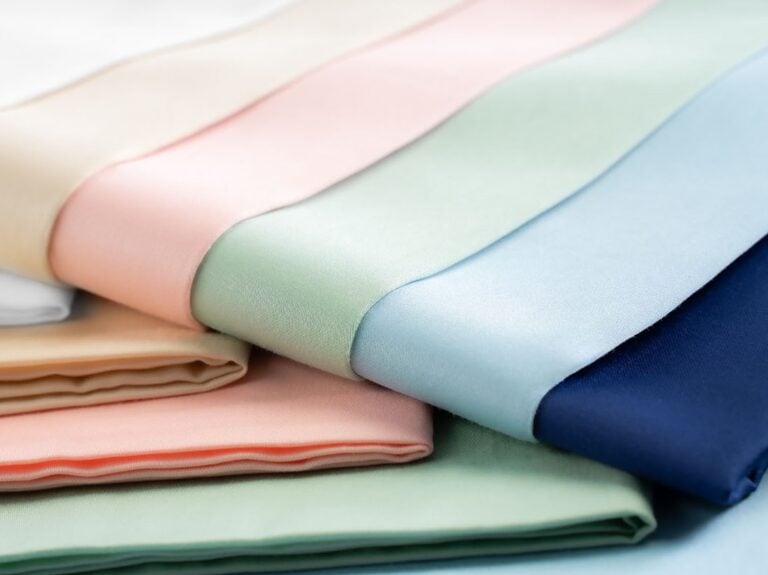 Cotton Sateen Fitted Sheet
Starting at €49,90 VAT inc.
Our fitted sheets are made of 100% cotton sateen and come in 6 beautiful colors. They feature deep fitted pockets, an all-around elastic and an additional diagonal elastic band in every corner to ensure that it will stay in place throughout the whole night. Soft, secure, and durable, our fitted sheets are the perfect fit for any mattress.
Select your product:
Free Fast Shipping!
Free shipping within 1 - 3 working days in Belgium, the Netherlands and Luxembourg. For other countries in the EU, a small transport cost can be added to the checkout. A track & trace code will be provided to track your order.
Free Fast Delivey
30 Nights Trial
2 Year Warranty
Benefits

Cover your mattress with our luxurious and comfortable cotton sateen fitted sheets.

Soft touch

Breathable cotton sateen textile

Gentle sateen sheen

Deep fitted pockets with vertical elastics

All-around elastic

Diagonal elastic band in each corner

Becomes softer after washing
Materials and certifications

Textile:

100% Natural Cotton Sateen

3:1 Sateen Weave

300 Thread Count

OEKO-TEX certified

Made in Europe
Shipping & Warranty

Free fast shipping within 3 working days for Belgium, the Netherlands and Luxembourg.

For other EU countries your order will arrive within 5 business days. Depending on the country a small shipping fee can be added to your order at the check-out.

All our products are covered by a 2-year warranty period for manufacturing defects. We are confident in the quality and comfort of our products, which is why we offer a 30-night trial period for all of our customers.
Complete your bed
Complete your bed with a full bed sheet set
€0,00 Total, VAT incl.
Checkout
Product specs
Textile

100% Natural Cotton Sateen

3:1 Sateen Weave

300 Thread Count

OEKO-TEX certified
Colors

Pearl White: soft white

Dream Blue: light pastel blue

Night Sky Blue: dark navy blue

Soft Pink: light and warm pink

Pastel Green: soft light green

Ivory Beige: light and warm beige
Washing Instructions

Machine washable at 40°C,

Tumble dry
Sizes

90×200 cm

160×200 cm

180×200 cm
Shipping & Warranty

Free fast shipping: 1 – 3 business days (you can track your order)

Check the FAQ page for exact delivery times for your country

2 years warranty

30-night free trial
A perfect cover for every height
Our fitted sheets are made with deep pockets that will fit any mattress up to 32cm high. To make sure that your mattress is always tightly covered, a vertical elastic has been added to every corner. This ensures a perfect fit for both thin and high mattresses.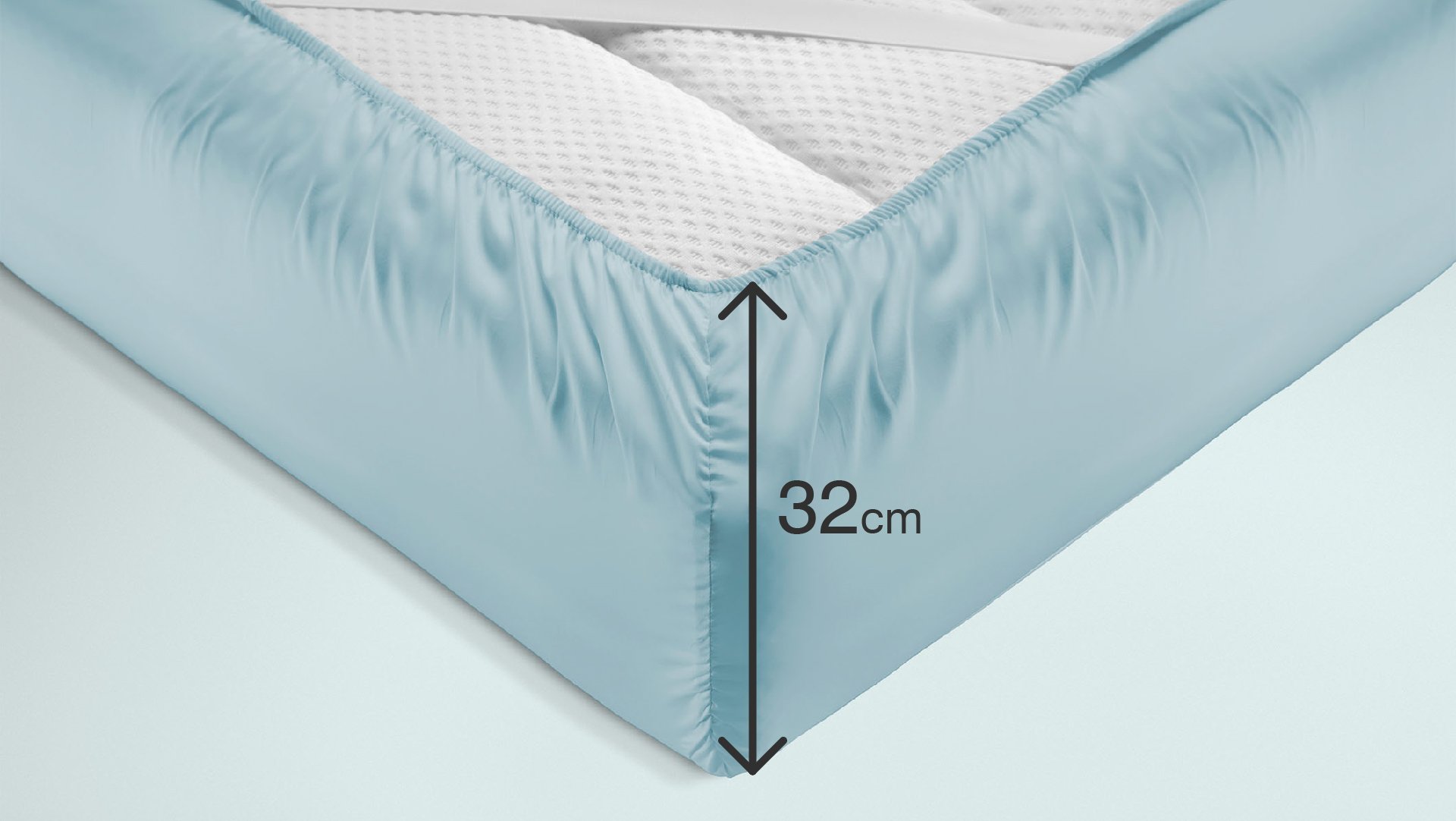 All-around elastic to fit any mattress
Unlike most fitted sheets that only feature elastics in the corners, ours is provided with an all-around elastic. This ensures that your mattress will always be tightly covered without any wrinkles or loose ends.
Shop Your Sheets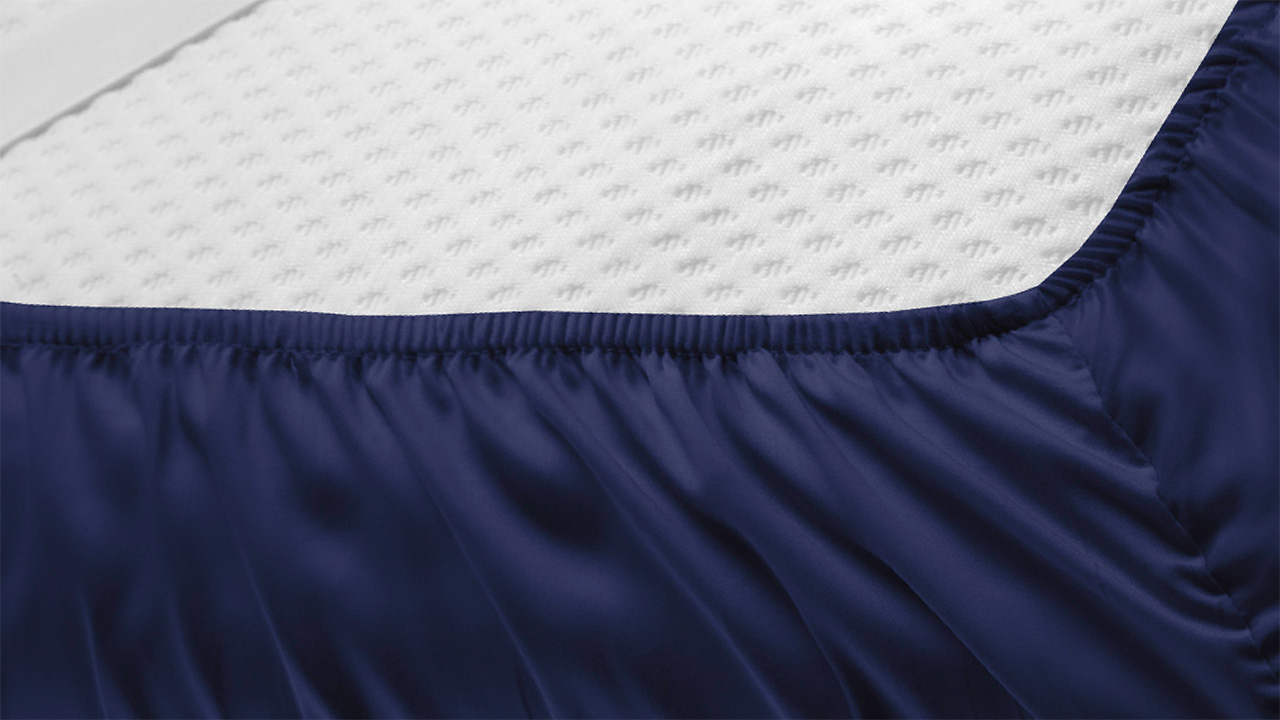 Soft, smooth, and luxurious
Upgrade your sleep experience with premium cotton sateen fitted sheets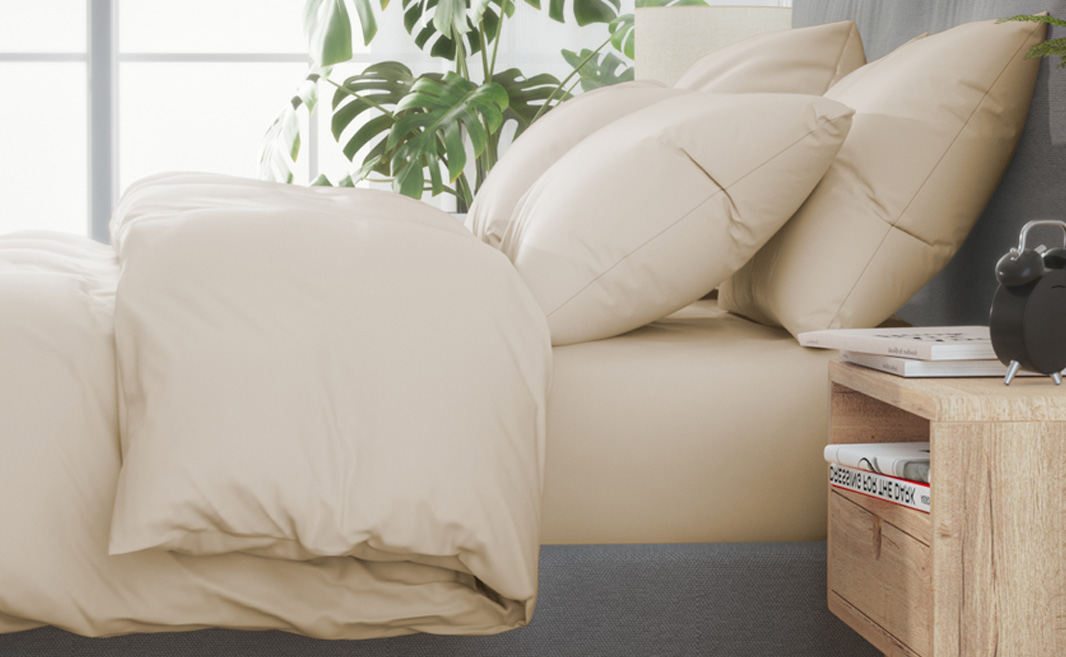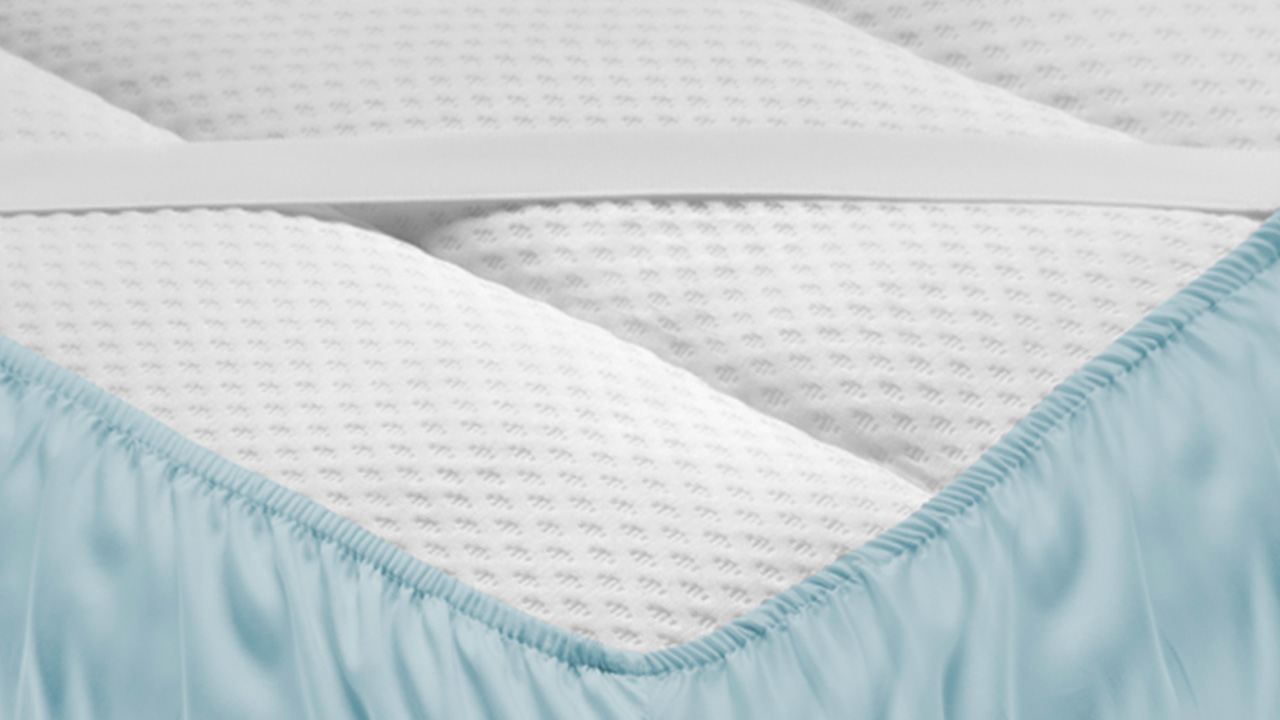 Elastic corner band for extra stability
We have included a diagonal elastic band on all four corners that hold your fitted sheet in place. This prevents the fitted sheet from getting loose at night when you move in your sleep. In combination with the fitted deep pockets and all-around elastic, they ensure that our sheets always have the perfect fit for every mattress.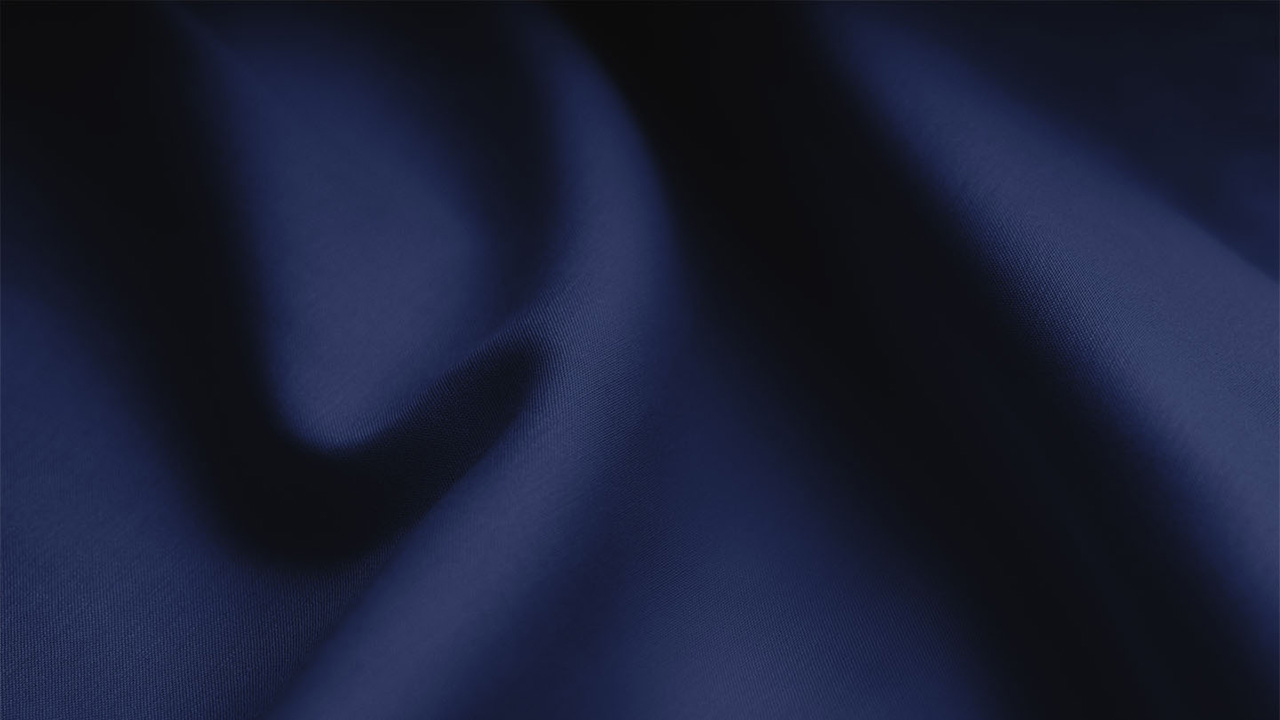 Soft and durable
Our fitted sheets are made of premium cotton sateen. This gives it a gentle soft touch that becomes even softer after every wash. With our detailed hand sewing in our own factory in Europe, we can ensure the long-lasting quality and durability of our products.
Shop Your Sheets
Frequently asked questions
What is cotton sateen?

Cotton sateen is a 100% natural and breathable textile. The sateen weave of the cotton, with a structure of one thread underneath and three above, gives it a luxurious and soft touch. The sateen weave gives the sheets a soft sheen when new. After washing, this soft sheen will slightly diminish and the textile will become even softer, making it extremely comfortable to sleep under. The breathability of the cotton makes it a perfect choice for warm sleepers, while it can also keep you nice and warm on cold nights.
How can I wash my fitted sheets?

Our cotton sateen fitted sheets can be easily washed in a washing machine on a gentle cycle at 40°C. We recommend using a mild detergent and washing colors separately. When tumble drying your sheets, use a moderate temperature. To reduce wrinkles it is best to take out your sheets straight away after the drying cycle.

Cotton sateen is made from natural cotton and will always have a small amount of shrinkage. To make sure that your sheets will perfectly fit after washing we made our sheets a few centimeters bigger.
What does the thread count mean?

The thread count is a measure to indicate the number of threads that are woven into one square inch of textile. It is calculated by adding the number of threads lengthwise (warp) and widthwise (weft). A high thread count indicates that the sheets are made with finer, thinner yarns. The higher the thread count the smoother and denser (and heavier) the fabric will be.

However, sometimes the thread count can be a tricky number. For thread counts above 500 for cotton sateen it can mean that the manufacturer used a "ply". This is a technique of twisting multiple single threads into one yarn. A two-ply, for example, would mean two threads twisted into one yarn. A sheet with a 250 thread count made with two-ply yarns can thus be advertised as a 500 Thread Count. This is something that is often used as a marketing technique, for which you should be careful. In general, single-ply yarn is more soft and flexible.
What is the maximum heigth of the fitted sheet?

Our fitted sheets are made to perfectly cover any mattress up to 32cm. We included a vertical elastic in all corners that stretches and shrinks based on the height of your mattress (up to 32cm) to ensure the perfect fit. It stays on the edge and keeps the sheets straight.

Is your mattress a few centimeters higher? Every corner is provided with a diagonal corner elastic to make sure that your fitted sheet will stay in place, even for extra high mattresses!
What is an all-around elastic?

The all-around elastic goes around the whole circumference of the fitted sheet and, once placed on a mattress, helps it stay in place. It "grips" the mattress from underneath and stops it from moving when you toss and turn.
What are corner elastic bands?

Our fitted sheets feature a strong diagonal elastic band on each corner that stay under your mattress. This ensures that your fitted sheets stay in place all night long, without ever getting loose.
Get more information about our covers.

Do you have more questions? Contact one of our sleep experts via chat or by mail. We will give you a fast reply!